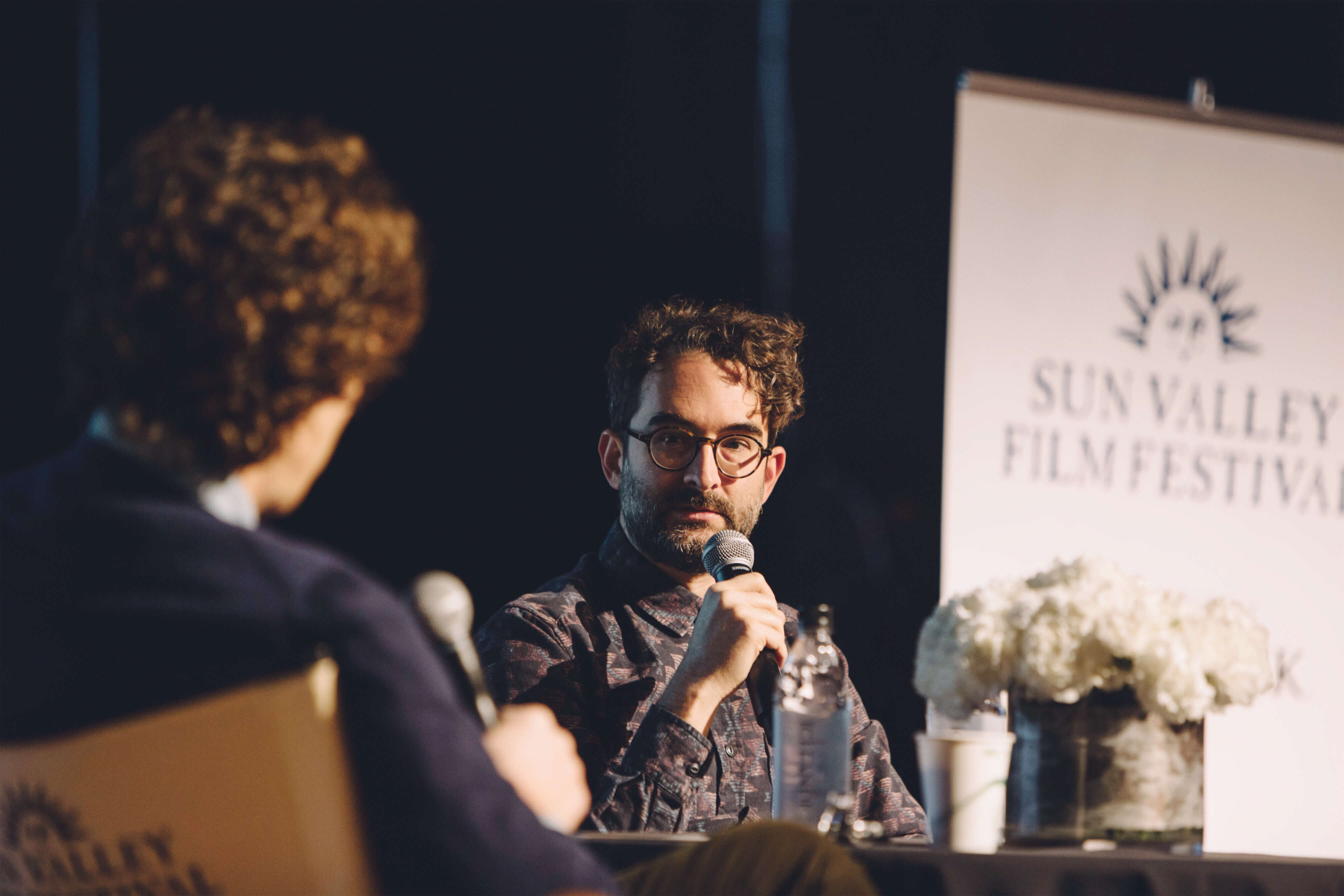 NEWS
FOR IMMEDIATE RELEASE
SUN VALLEY FILM FESTIVAL ANNOUNCES THE FILM LAB, SPONSORED BY TITO'S HANDMADE VODKA, A WORK-IN-PROGRESS FILM PARTNERSHIP WITH A PRIZE OF UP TO $185,000 IN POST-PRODUCTION SERVICES
Jay Duplass to Judge Competition
Sun Valley, Idaho (updated 1/8/2019) … The 2019 Sun Valley Film Festival (SVFF) is now accepting submissions for The Film Lab. Now in its sixth year, The Film Lab, sponsored by Tito's Handmade Vodka and The Farm Group, selects one team of filmmakers to partner with the Festival and Tito's to complete their film's vision. Award-winning filmmaker Jay Duplass (Transparent, Togetherness) will judge the competition.  Variety is a media partner of the program.
The director and producer of the winning work-in-progress film will receive travel, lodging and insider access during the Sun Valley Film Festival, where their film will be screen-tested for SVFF audiences.  After receiving festival audience feedback, the filmmakers will embark on a two city tour to further screen-test the film in front of select audiences before locking and completing the picture with Los Angeles-based post-production company The Farm Group, who will provide up to $185,000 in services.
Filmmakers are invited to submit work-in-progress films in the final stages of post-production. The deadline for submissions is February 22nd. Full details regarding submissions, requirements, deadlines and more can be found at https://sunvalleyfilmfestival.org/experiences/film-lab/.
"The Film Lab provides vitalizing encouragement and practical support to emerging and established filmmakers as they ready their film for audiences," said Festival Director Teddy Grennan.  "Through access to these rare opportunities, industry expert guidance, financial support and unique platforms for showcasing their work, The Film Lab, and sponsors like Tito's Handmade Vodka, helps films in their final stages cross the finish line."
"Through Love, Tito's, our philanthropic platform at Tito's Handmade Vodka we support many entrepreneurs in the arts community," said Amy Lukken, Chief Joyologist Tito's Handmade Vodka.  "We're honored to work with SVFF on The Film Lab to help filmmakers make their visions a reality."
The Sun Valley Film Festival Film Lab is sponsored by Tito's Handmade Vodka and supported by The Farm and Variety.
About the Sun Valley Film Festival
The Eighth Annual Sun Valley Film Festival will run March 13-17th, 2019. With a mission to empower independent filmmakers to share the stories that inspire change, SVFF is where storytellers from around the world come together to bring their vision into focus. This spring, we gather to celebrate the art of filmmaking with a curated slate of more than 60 cutting-edge films, engaging Coffee Talks with top industry insiders, fabulous parties and panels, a Screenwriters Lab led by award-winning writers and the spectacular SVFF Awards Bash. The combination of cutting-edge programming and bona-fide insider access in a fun, relaxed atmosphere is making the Sun Valley Film Festival a rising star in the world of destination festivals. For festival details visit www.sunvalleyfilmfestival.org. Get festival updates on Facebook and Twitter.
About Tito's Handmade Vodka
Tito's Handmade Vodka is America's Original Craft Vodka. In 1997, Bert "Tito" Beveridge, now a 50-something geophysicist, obtained the first legal permit to distill in Texas and created Tito's Handmade Vodka. Tito's distills its corn-based vodka using old-fashioned pot stills and the vodka is naturally Gluten-Free. Tito's Handmade Vodka is distilled and bottled by Fifth Generation Inc. in Austin, Texas, and is available in Liter, 1.75L,750ml, 375ml, 200ml and 50ml sizes. For more information, visit www.titosvodka.com.
About The Farm Group
Since their 1998 launch in Soho, London, The Farm Group continues to provide cutting-edge technology alongside creative talent with vast experience in all genres, and award-winning specialists in scripted drama across the UK and in Los Angeles.
The Farm LA which is based in the heart of Hollywood and part of The Farm Group's international infrastructure, offers high-end full finishing service all under one roof and ensures all aspects of your project interact smoothly, guarantying continuity throughout the process with benefits that go beyond time-saving and convenience.
About Variety
Variety has been the seminal voice of the entertainment industry for 113 years and counting. Featuring award-winning breaking news reporting, insightful award-season coverage, must-read feature spotlights and intelligent analysis of the industry's most prominent players, Variety is the trusted source for the business of global entertainment. Read by a highly engaged audience of industry insiders, Variety's multi-platform content coverage expands across digital, mobile, social, print and branded content, events and summits.
In 2015 and 2016 Variety's "Actors on Actors" on PBS was awarded the Emmy for best entertainment programming at the Television Academy's 67th and 68th Los Angeles area Emmy Awards. "Actors on Actors," an interview special that features pairings of prominent actors discussing their craft, was produced by PBS SoCal in partnership with Variety Media, LLC. Follow Variety on Facebook facebook.com/variety; Twitter, @variety; Instagram, @Variety The Variety Group – Variety, Variety.com, Variety Insight, Indiewire, LA 411, NY 411 – is owned by Variety Media, LLC, a division of Penske Media Corporation.
###
Media Contacts:
Steven Wilson, Scenario, steven.wilson@scenariopr.com
Carol Waller, CW Communications, carol@cw-communications.com, 208-720-3965