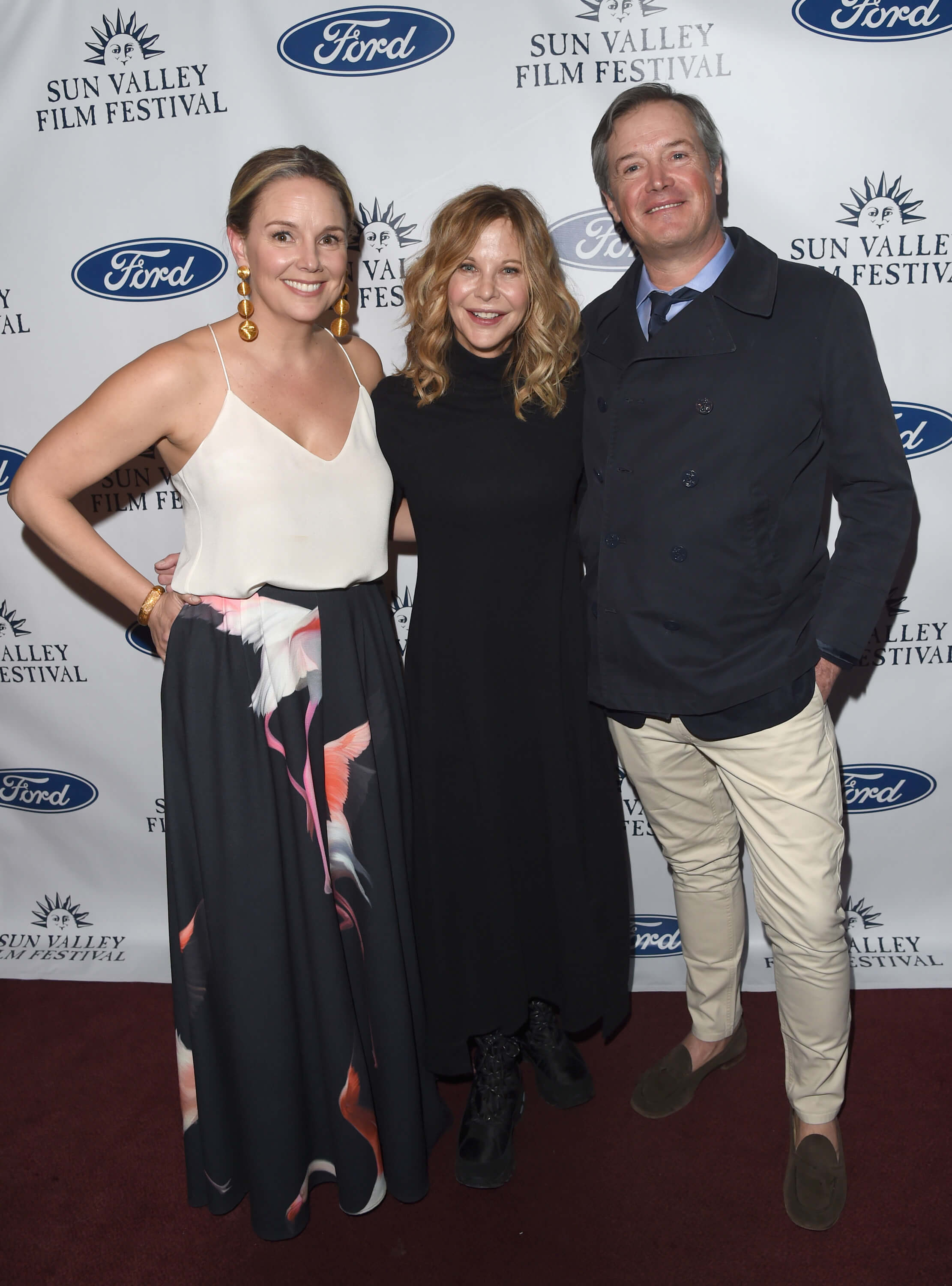 March 19, 2019
NEWS – FOR IMMEDIATE RELEASE
2019 SUN VALLEY FILM FESTIVAL, PRESENTED BY FORD, ANNOUNCES AWARD WINNERS
Meg Ryan, Aaron Paul, Alex Ross Perry and Fisher Stevens receive SVFF Award Honors
Long Shot receives Audience Award
Running with Beto wins Producer's Vision Award and Audience Award Finalist
Lemonade and Tigerland score One in A Million Awards
The Flip and Mariana van Zeller win Nat Geo Prizes
Photo: Candice Pate (SVFF Festival Director), Meg Ryan and Teddy Grennan (SVFF Executive Director at the Sun Valley Film Festival Vision Award dinner. (Photo Credit: Jason Merritt/Radarpics for SVFF)
Sun Valley, ID…. The 2019 Sun Valley Film Festival (SVFF), presented by Ford, announced its film award winners at its annual Awards Bash. The Festival awarded over $200,000 in prizes and countless mentorship opportunities to independent filmmakers. Special musical guest Foxing brought down the house at Whiskey Jacques as filmmakers, attendees and special guests raised a glass of Tito's Handmade Vodka to toast another successful Festival, held March 13-17, 2019.
Film Awards
Audience Award – The Audience Award is voted on by movie goers.
WINNER: Long Shot, directed by Jonathan Levine
Additional Audience Award Finalists:
The Parts You Lose, directed by Christopher Cantwell
Ghost Fleet, directed by Shannon Service and Jeffrey Waldron
Running with Beto, directed by David Modigliani
Sea of Shadows, directed by Richard Ladkani
Producer's Vision Award – This award recognizes a producer's ability to keep a dramatic, feature length film in focus during the journey of the project.
WINNER: Running with Beto, producer Jeff Steen
One in a Million Awards – The One in a Million Awards honor feature length stories made for under one million dollars. One narrative and one documentary film are each awarded.
NARRATIVE WINNER: Lemonade, directed by Ioana Uricaru
DOCUMENTARY WINNER: Tigerland, directed by Ross Kaufman and produced by Fisher Stevens
The Shorty Award – The best short film across all categories.
WINNER: Kate in Oxnard, directed by Emily Tomson
Gem State Award – presented by Festival sponsor Zions Bank, this award recognizes an Idaho filmmaker whose work best reflects the beauty and diversity of the Gem State.
WINNER: MAR: Episode 1, directed by Martin McGreevy
SVFF Film & Screenwriting Competition Winners
Nat Geo WILD TO INSPIRE – The lucky winner will to receive $1,000 and a National Geographic Expedition to explore wildlife and wild places up close alongside Nat Geo Explorers.
WINNER: The Flip, Reed Rickert
Nat Geo Further Award – The National Geographic Further Award recognizes a leader whose work is uniquely innovative, timely, and impactful—someone who has boldly pushed the boundaries of his or her field, and who serves as an outstanding ambassador for that breakthrough work.
WINNER: Mariana van Zeller
The Film Lab – Tito's Handmade Vodka presented The Film Lab, hosted by Hannah Fidell. Winners of the competition traveled to the festival, where the work-in-progress film was screen-tested for audience feedback and will be taken to two additional cities before locking and completing the picture with Los Angeles-based post-production company The Farm, who will provide up to $185,000 in services. Variety is a partner of the program.
WINNER: Colewell, directed by Tom Quinn, produced by Matthew Thurm, Craig Shilowich, Joshua Blum, and Alexandra Byer
High Scribe – The competition gives finalists an opportunity for one-on-one meetings with some of the industry's finest to discuss their work; the winner receives mentoring from an experienced professional.
WINNER: The Graveyard Shift, written by Max Andrew Dubinsky and Matthew Carpenter
1 Potato Winner – The short screenplay competition awards the screenwriter a $5,000 stipend to help shoot their film in Idaho.
WINNER: Girls Are Strong Here, written by Scott Burkhardt
Future Filmmaker Forum – showcases student-made films and encourages students in their craft, storytelling, and self-expression.
Hot Shot Winner ($1,000 prize): Control Yourself, directed by Zoe Takaki
Gabriel Spirit Award ($300 prize): Beyond the Wall, directed by Mia Nelson
Gem State Jr. Award ($500 prize): For Us, directed by Justin Buss
SVFF Special Awards
SVFF VISION AWARD – pays tribute to industry icons who have provided the keen insight, influence and initiative needed to see their creative visions come to fruition.
HONORED: Meg Ryan
PIONEER AWARD, Presented by Variety – given in recognition of an industry innovator: one whose work on-screen or behind the camera embodies the trailblazing spirit.
HONORED: Aaron Paul
RISING STAR AWARD FOR DIRECTING – recognizes breakthrough talent in the film and television industry.
HONORED:  Alex Ross Perry
SNOW ANGEL AWARD, presented by Beautycounter – celebrates industry leaders on the frontlines of enacting change.
HONORED: Fisher Stevens
The next edition of the Sun Valley Film Festival will be held March 11-15, 2020.
###
About the Festival
The Eighth Annual Sun Valley Film Festival, presented by Ford, took place March 13-17th, 2019. With a mission to empower independent filmmakers to share the stories that inspire change, SVFF is where storytellers from around the world come together to bring their vision into focus. The festival gathered to celebrate the art of filmmaking with a curated slate of more than 60 cutting-edge films and TV premieres, engaging Coffee Talks with top industry insiders, fabulous parties and panels, labs and workshops led by award-winning filmmakers and the spectacular SVFF Awards Bash. This year's festival guests included Meg Ryan, Aaron Paul, Alex Ross Perry, Fisher Stevens, Chelsea Handler, Hannah Fidell, Phil Johnston, Nick Broomfield, Christopher Cantwell, Filipe DeAndrade, Guillermo Navarro, Erika Bergman, Mariana Van Zeller and more. The combination of cutting-edge programming and bona-fide insider access in a fun, relaxed atmosphere is making the Sun Valley Film Festival a rising star in the world of destination festivals.
Get details at www.sunvalleyfilmfestival.org. Get Festival updates on Facebook, Instagram, and Twitter.
###
Media Contacts:
Steven Wilson, Scenario, steven.wilson@scenariopr.com
Carol Waller, CW Communications, carol@cw-communications.com
Images available for download at https://sunvalleyfilmfestival.org/press-photos/