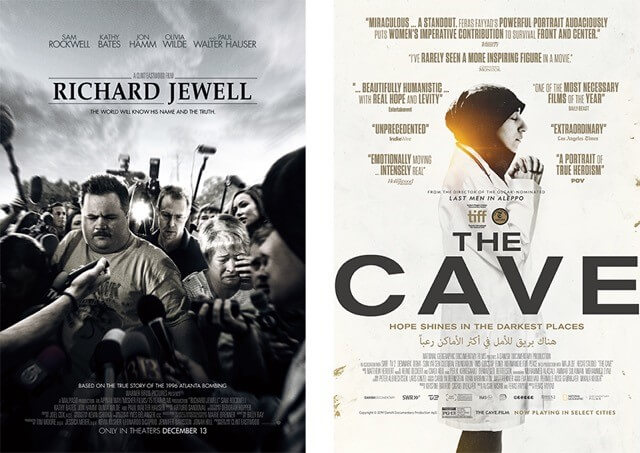 December 10, 2019
FOR IMMEDIATE RELEASE
Sun Valley Film Festival Kicks off its 2020 Season with Variety Winter Screening Series of The Cave and Richard Jewell 
SVFF Passes now on sale
As a holiday and awards season kick-off to its upcoming March 18-22, 2020 event, the Sun Valley Film Festival (SVFF), in partnership with the Variety Screening Series, will showcase two highly acclaimed new films, National Geographic Documentary Film's The Cave, with a Q&A session with director Feras Fayyad, and Warner Bros. Pictures' Richard Jewell. The films will screen at the Argyros Performing Arts Center in Ketchum for SVFF Patrons and invited guests. Richard Jewell will screen on December 27 at 7:30 p.m. and The Cave will screen on December 29 at 5:30 p.m. A reception for SVFF Patrons will be held prior to each screening.
In National Geographic Documentary Film's The Cave, Oscar nominee Fayyad delivers an unflinching story of the Syrian war. For besieged civilians, hope and safety lie underground inside the subterranean hospital known as the Cave, where pediatrician and managing physician Dr. Amani Ballour and her colleagues Samaher and Dr. Alaa have claimed their right to work as equals alongside their male counterparts, doing their jobs in a way that would be unthinkable in the oppressively patriarchal culture that exists above. Following the women as they contend with daily bombardments, chronic supply shortages and the ever-present threat of chemical attacks, The Cave paints a stirring portrait of courage, resilience and female solidarity.
The recently released film has received rave reviews, with a 97% rating on Rotten Tomatoes. The Washington Post states, "This extraordinary film allows viewers to bear witness to courage and dedication in their finest forms — and it offers a grim reminder that justice, mercy and healing have been driven underground for centuries."  Indiewire says, "Gripping. Unprecedented. A real-time thriller…Fayyas excels at finding small moments that take on poetic resonance."
Last year SVFF hosted a successful 2018 holiday season screening of National Geographic Documentary Film's Free Solo, with directors Jimmy Chin and Elizabeth Chai Vasarhelyi, which went on to receive the Academy Award for Best Documentary. National Geographic is a longtime partner of the Sun Valley Film Festival.
Richard Jewell, directed and produced by renowned filmmaker Clint Eastwood, is a story based on true events and introduces us to the eponymous security guard, played by Paul Walter Hauser, who reported finding a bomb at the 1996 Atlanta Games. Oscar winner Eastwood directed from a screenplay by Oscar nominee Billy Ray, based on the Vanity Fair article "American Nightmare—The Ballad of Richard Jewell" by Marie Brenner. Eastwood is no stranger to the SVFF, having been honored with the SVFF Lifetime Vision Award in 2015.
The film depicts how, before detonation, Jewell heroically jumped into action to save countless lives, making him both a hero and media phenomenon. Within days, however, Jewell quickly became the FBI's number one suspect and public opinion shifted. Vilified by the press, his daily life was completely upended. With the support of his mother Bobi (Kathy Bates) and an anti-establishment attorney named Watson Bryant (Sam Rockwell), Jewell held steadfast in professing his innocence and trying to prove to the world who he really was. The Warner Bros. film stars Oscar winners Rockwell and Bates, along with Jon Hamm, Olivia Wilde and Hauser.
Richard Jewell has been amassing critical acclaim: the National Board of Review included it as one of the Top 10 Films of the Year and selected Kathy Bates for Best Supporting Actress and Paul Walter Hauser for Breakthrough Performance; AFI named it one of the Best Motion Pictures of the Year; and it received a Golden Globe nomination for Best Supporting Actress in a Motion Picture for Bates as well.
SVFF Passes Now on Sale
The Festival, known for its high-profile special guests and low-key insider access, is offering a variety of SVFF passes that offer unique perks along with an outstanding line up of special events and films for its March 18-22, 2020 event.
The SVFF Insider Pass is the Festival's top 'All Access' pass. Perks include the Insider's First Look Reception, Festival Opening Celebration, Festival Gift Bag, Priority Access to all SVFF events, Festival HQ access with HQ Bloody Mary Bar, HQ Salon lunch talks and après ski treats and libations, unlimited access to Films, Panels and Labs, and all of the SVFF evening parties, including the SVFF Awards Bash. The SVFF Insiders Pass cost is $1000 and limited quantities are available.
Other 2020 SVFF passes offered include the Festival Pass ($500), the Film Pass ($200) and the Party Pass ($200), each offering select access to various SVFF events.  All SVFF Passes are now available but quantities are limited, so early purchase is advised.
For complete information and online purchase, visit: www.sunvalleyfilmfestival.org.
The SVFF also offers a Patrons Program for those wishing to support the festival at a higher level with a tax-deductible contribution and other special benefits including "front of the line" access and invitations to private events. Details available at www.sunvalleyfilmfestival.org/become-a-patron".
SVFF corporate sponsorships are also available.
# # #
About the Sun Valley Film Festival & Sun Valley Film Initiative
Since 2012 the Sun Valley Film Festival has invited fans and filmmakers to America's first ski resort to celebrate the magic of storytelling. The year-round Sun Valley Film Initiative develops professionals and Illuminates the process of filmmaking, propelling emerging voices with grants and education. Each March, the Festival celebrates with a slate of cutting-edge films and TV premieres, industry panels, engaging Coffee Talks with entertainment luminaries, a Screenwriters Lab led by award-winning writers, and a series of parties culminating with the spectacular SVFF Awards Bash. The 2020 SVFF will be held March 18-22. SVFF is a 501(c)(3) non-profit. Learn more at sunvalleyfilmfestival.org.
Media Contacts:
Steven Wilson, Scenario PR, 310-901-3920, steven.wilson@scenariopr.com
Carol Waller, CW Communications, 208-720-3965, carol@cw-communications.com
Media images available at www.sunvalleyfilmfestival.org/press-photos