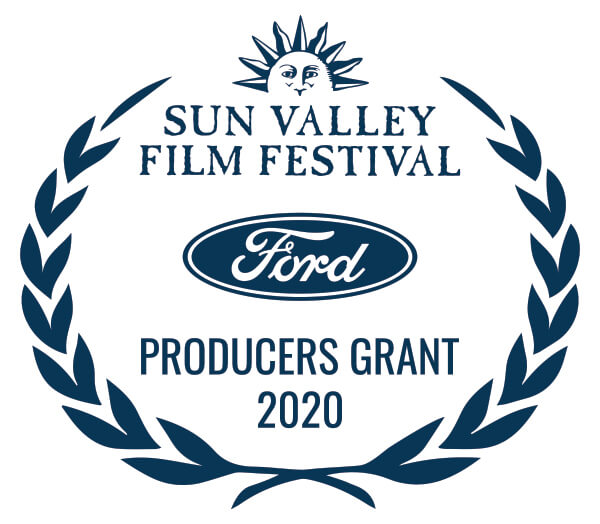 NEWS – FOR IMMEDIATE RELEASE
SUN VALLEY FILM FESTIVAL AND FORD ANNOUNCE WINNER OF THE FORD PITCH FEST'S $25,000 PRODUCERS GRANT
Award winning Director and Producer Jessica Sanders Receives Top Prize Selected by Producer Panelists Effie T. Brown, Jim Burke, Michael Burns and Heather Rae
Sun Valley, Idaho (May 7, 2020)—The Sun Valley Film Festival (SVFF) along with the Ford Motor Company is excited to announce the winner of the 2020 Ford Pitch Fest.  Producer Jessica Sanders will receive the $25,000 Ford Producers Grant prize for her project titled Picking Cotton, based off the New York Times bestseller, and will now have the opportunity to take her in-development film one big step closer to reality.
Sanders is a director and producer of narrative and documentary films and commercials. She received an Academy Award nomination for her short subject documentary Sing!, and accolades at the Sundance and Cannes Film Festivals. Her pilot Embrace just won the 2020 SXSW Film Festival Grand Jury Prize for Episodic Pilot. She has been passionate about directing Picking Cotton since she featured Ronald Cotton and Jennifer Thompson's exceptional story in her Sundance-winning documentary After Innocence, a game-changer in criminal justice reform.
Picking Cotton is based on the New York Times bestseller about the riveting true story of Jennifer Thompson, a Southern white college student who was raped at knifepoint and Ronald Cotton, the black man she identified as her rapist.  After spending 11 years in prison Ronald was exonerated and freed, the first case overturned by DNA in North Carolina. The two are now friends and activists for criminal justice reform. In an amazing twist, Ron solved his own case when he realized he was serving time with the real rapist.
Commenting on her win, Jessica Sanders said, "Tremendous thanks to the jury, Ford and the Sun Valley Film Festival for the Ford Producers Grant award for my scripted feature film Picking Cotton. This grant is validating and helpful in making this film become a reality. I've been passionate about Ronald Cotton and Jennifer Thompson's exceptional story since I featured them in my documentary After Innocence, a game-changer in criminal justice reform. Their story is deeply human, inspiring and timely, exploring themes of redemption, injustice, love and friendship. A happy surprise during quarantine to be recognized with this honor. Thank you!"
Ford Pitch Fest was originally planned as a live event during the Sun Valley Festival which had been scheduled to take place March 18-22, 2020. The event was cancelled due to Covid-19 on March 12.  Both Ford and the festival wanted to see the program through and worked with four finalists to have their pitches judged remotely by a panel of some of the industry's top producers including Effie T. Brown (Producer, Dear White People and Real Women Have Curves), Jim Burke (Academy Award winning producer of last year's Best Picture winner Green Book), Michael Burns (Vice Chairman Lionsgate), and Heather Rae (Producer, Bull and Frozen River).
Al Uzielli, Head of Ford Global Branded Entertainment said, "On behalf of Ford, we congratulate Jessica Sanders as the winner of our Producers Grant.  While we are disappointed not to celebrate this honor in person, we are very excited that we can still see it through to completion. In launching Pitch Fest with our partners at Sun Valley Film Festival, it was our goal to engage and support a new generation of talented producers. We look forward to following Jessica's continued success with Picking Cotton and beyond!"
Teddy Grennan, Executive Director of the Sun Valley Film Festival added, "Our festival team has worked hard to celebrate the work of producers and we were lucky to partner with Ford to develop this unique opportunity to discover and recognize emerging voices. We are very excited Jessica Sanders received the Producers Grant and we hope that we'll be able to showcase Picking Cotton and her other projects at an upcoming Sun Valley Film Festival."
This Producers Grant continues to showcase Ford's long-standing commitment to the entertainment industry and its rising filmmakers. SVFF is the premiere destination festival that brings filmmakers, industry guests and diverse audiences together to celebrate the art of storytelling.  The event has distinguished itself as a festival recognizing producers and filmmakers through the Vision award, the festival's top honor that has been presented over the years to Geena Davis, Clint Eastwood, Gwyneth Paltrow, Meg Ryan and Oliver Stone. Last year the festival partnered with Variety to present the Pioneer Award which was given to Aaron Paul.  The festival also hosts Coffee Talks, considered the crown jewel of the festival, Salon Talks, Screenwriters Lab, the Film Lab and Wild to Inspire competitions, and other mentoring opportunities for attending filmmakers.
The Sun Valley Film Festival is planning to return in March 2021 to celebrate its 10th anniversary.
# # #
About the Sun Valley Film Festival
The Sun Valley Film Festival is a 501(c)(3) charitable non-profit organization whose mission is to cultivate and promote the art of filmmaking, and to use the power of storytelling to foster meaningful connections. Since 2012 SVFF has proven to be a concierge of opportunity connecting filmmakers with support both financially and through mentorship. Every spring the Festival celebrates with a slate of cutting-edge films and TV premieres, industry panels, engaging Coffee Talks with entertainment luminaries, a Screenwriters Lab led by award-winning writers, and a series of parties culminating with the spectacular SVFF Awards Bash. To learn more, visit sunvalleyfilmfestival.org and follow us on Facebook and Twitter.
About Ford Motor Company
Ford Motor Company is a global company based in Dearborn, Michigan. The company designs, manufactures, markets and services a full line of Ford cars, trucks, SUVs, electrified vehicles and Lincoln luxury vehicles, provides financial services through Ford Motor Credit Company and is pursuing leadership positions in electrification; mobility solutions, including self-driving services; and connected services. Ford employs approximately 188,000 people worldwide. For more information regarding Ford, its products and Ford Motor Credit Company, please visit www.corporate.ford.com.